Robotics in the wake of the 4th Industrial Revolution 
Robotics is an integral part of the transformation towards Industry 4.0, an economy based on universal artificial intelligence and continuous communication. Despite the fact that it has been in use for some considerable period, especially in the automotive industry, robots of the future will have an ability to collaborate with humans and learn. The current growth may soon be accelerated by macroeconomic circumstances such as inflation and rising labour costs.
Automation, like other innovative solutions, is developing at an extremely fast pace. According to the BCG report, the global robotics market was worth $25 billion in 2020, and its projected size in 2030 is as high as $160-260bn. The number of global shipments of industrial robots have also been growing exponentially since 2010.
Annual shipments of industrial robots worldwide (in '000)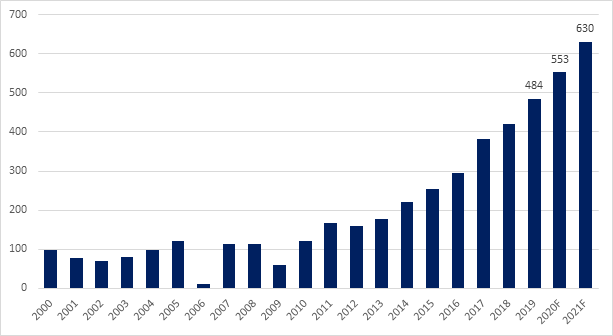 Source: McKinsey & Company, 2019
Robots classification
There are 3 main categories of industrial robots: stationary, collaborative and autonomous ones. The first category encompasses traditional machines attached to the ground or other fixed element, used for activities such as welding, soldering, and assembling. For this reason, they are most often involved in the production of cars. Due to their construction, the stationary ones include, among others Cartesian, cylindrical, SCARA, and Delta robots.
Collaborative robots operations and integrations with human workers, so unlike stationary robots, they do not fences and separation from employees to guarantee safety. This combination allows for very high precision, which is for example used in surgery theatres and other professions requiring extreme accuracy. In the future, thanks to the use of exoskeletons, these robots can allow for carrying higher weights with smaller strain on the spine and joints. However, for the time being collaborative robots are a niche product with a 2.5% - 5% market share.
Finally, autonomous robots include devices capable of independent movement without human control. In this field, Autonomous Guided Vehicles (AGVs) have excellent growth prospects with their wide range of potential applications in warehouses or logistics centres.
Trends
The question of whether automation will gain even higher momentum in the next few years seems to be an obvious one. Nevertheless, there are tangible reasons why these developments can be as fast as the ones in artificial intelligence or cryptocurrencies.
First of all, rising labour costs will increase the profitability of adapting intelligent machines. It is worth noting that one of the key factors that brought about the Industrial Revolution was the rising cost of labour relative to energy prices in the early 19th century in England, which made the use of the steam engine profitable. Indeed, the analogical situation occurs in many countries around the world, including the United Kingdom itself, which is struggling with labour shortages after Brexit. Labour costs are also rising in China, which has so far been fuelled by cheap labour force. For these reasons, automation of production will become increasingly common in the coming years, especially as both Europe and China still make less use of robots than the global leaders.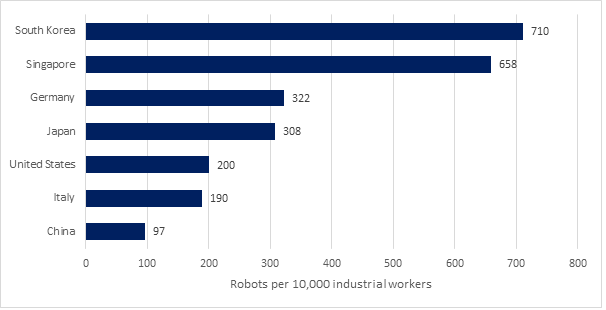 Source: McKinsey & Company, 2019
The spread of robotics will also go in hand with the improvements in artificial intelligence. This will enable the development of numerous novel products, such as the aforementioned autonomous self-steering vehicles, as well as robots able to independently adapt products to the customer's needs using machine learning. Moreover, since the development of automation allows for cheaper production of goods, it will also allow for cheaper production of the robots themselves. As a consequence, this positive feedback will lead to an ever faster fall of prices of innovative machines.
The automotive industry may turn out to be a catalyst for Industry 4.0 due to the transition to electric vehicles, which will require the modernization of production lines. A significant spike in demand for robots will encourage innovations, which are likely to spill over to the other sectors of the economy.
Venture Capital investments in Robotics
Due to its dynamic growth, automation is of great interest to Venture Capital funds, as is the case with artificial intelligence. Moreover, as these areas intersect, it increases the attractiveness of investment in robotics.
An example of success made in the CEE is founded in Romania UiPath Inc., which offers comprehensive tools for managing automation processes in the enterprise. Moreover, it provides tools to record and automate repetitive activities without any programming knowledge. UiPath was founded in 2005 in Bucharest, but the $1.6 million Seed round concluded no sooner than in 2015. Since then, however, the company has grown exponentially. So far it has completed 6 rounds of financing for a total of over $2 billion and has moved its headquarters to New York City. Finally, the company went public on the New York Stock Exchange in April 2021. Currently, the market capitalization of UiPath is over $22 billion.
VersaBox is a start-up from Poland offering autonomous robots. The company offers machines whose task is to deliver production materials in factories, so this is an example of the most innovative category of autonomous robots – AGVs. In September 2020, VersaBox raised PLN 11 million (€2.5m) from incl. Fidiasz EVC, SpeedUp Energy Innovation or Movens VC as part of its Seed round, and the total financing is exceeds PLN 18 million (€4 million).
Conclusion
Automation solutions have been known for some time, though the current trends such as rising labour costs, artificial intelligence or even the transformation towards electric cars suggest their dynamic growth over the next few years. The examples of UiPath and VersaBox show the potential of developing these technologies in the CEE region, as well as the inseparability of robotics and machine learning.
Aljarboua, Z., Santhanam, N., Teulieres, M., Thomsen, J., and Tilley, J., 2019. 'Industrial robotics: Opportunities for manufacturers of end effectors'. McKinsey & Company. https://www.mckinsey.com/industries/advanced-electronics/our-insights/industrial-robotics-opportunities-for-manufacturers-of-end-effectors#
Bellon, M., 2020. 'Polskie roboty jak armia autonomicznych mrówek. Ich twórcy zdobyli 11 mln zł. Wśród inwestorów twórca Seleny' Business Insider Polska. https://businessinsider.com.pl/firmy/polska-firma-versabox-zdobyla-11-mln-zl-wsrod-inwestorow-tworca-seleny/fsq4c44
Gheorge, G., 2018. 'The story of UiPath – How did it become Romania's first unicorn?' Business Review. https://business-review.eu/news/the-story-of-uipath-how-it-became-romanias-first-unicorn-164248
Lässig, R., Lorenz, M., Sissimatos, E., Wicker, I., and Buchner, T., 2021. 'Robotics Outlook 2030: How Intelligence and Mobility Will Shape the Future'. Boston Consulting Group. https://www.bcg.com/publications/2021/how-intelligence-and-mobility-will-shape-the-future-of-the-robotics-industry
Teulieres, M., Tilley, J., Bolz, L., Ludwig-Degm, P., and Wägner, S., 2019. 'Industrial robotics: Insights into the sector's future growth dynamic'. McKinsey & Company. https://www.mckinsey.com/~/media/mckinsey/industries/advanced%20electronics/our%20insights/growth%20dynamics%20in%20industrial%20robotics/industrial-robotics-insights-into-the-sectors-future-growth-dynamics.ash
Finished projects and investment transactions
Million Euro arranged capital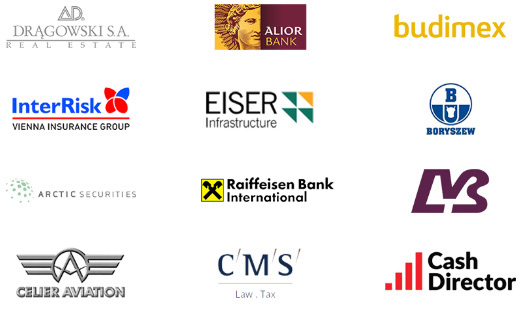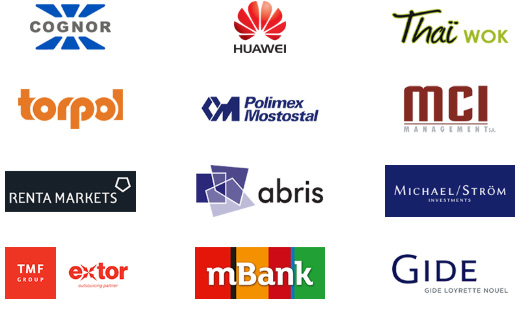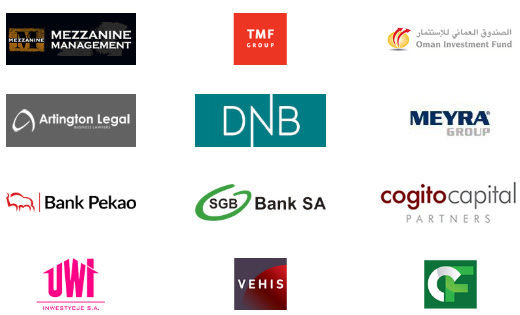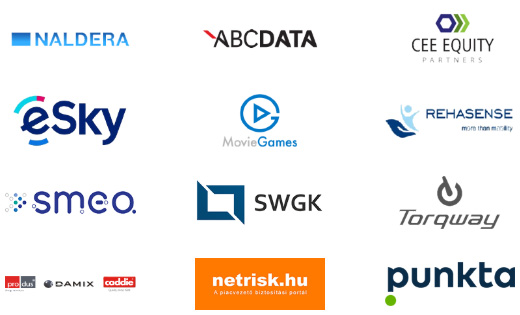 If you have questions related to our company or services that we provide, please contact us.
Plac Trzech Krzyży 10/14
00-535 Warsaw, Poland